Washington state is not only the home of Bill Gates and Common Core, it is also the home of the notorious SBAC Common Core test – a high stakes high failure rate test that has already announced that it will label two out of every three children who take it this spring to be "failures." Despite these obstacles, in May 2014, the Washington State Republican Party passed a resolution to repeal Common Core and the SBAC test. Then in January 2015, the Washington State Democratic Party became the first State Democratic Party in the nation to pass a resolution opposing Common Core.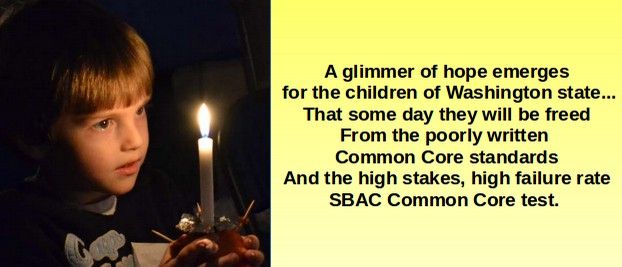 On February 6 2015, at a meeting of about two dozen leaders of the movement to oppose Common Core and Common Core tests in Washington state, State Senator Maralyn Chase, a Democrat from Shoreline and State Senator Pam Roach, a Republican from Enumclaw, announced that on February 7 2015, they will drop a bill in the Washington State Senate to
repeal Common Core and S-BAC
and return to the prior Washington State Standards and Washington State test called the Measurement of Student Progress or MSP.
Cosponsoring their bill are Democratic Senators John McCoy from Marysville and Bob Hasegawa from Renton and Republican Senators Mark Miloscia from Federal Way, Mike Padden from Spokane, Brian Dansel from Republic and Don Benton from Orchards. State Representative Elizabeth Scott announced that she will also file a Common Core repeal bill in the Washington State House of Representatives. She has gathered 22 cosponsors including Larry Haler, Matt Shea, Brandon Vick, Shelly Short, Luanne Van Werven, Cary Condotta, Lynda Wilson, Jesse Young, Linda Kochmar, Joe Schmick, David Taylor, Mark Harmsworth, Dan Griffey, Brad Klippert, Vincent Buys, Kevin Parker, Jeff Holy, Liz Pike, Graham Hunt and Drew MacEwen. All 22 cosponsors are Republicans. Despite the fact that the Washington State Democratic Party passed a resolution in January 2015 opposing Common Core and SBAC, not a single Democrat in the House was willing to cosponsor the bill to repeal Common Core. Several told me they wanted to but were afraid to offend the House Party leaders. In my opinion, the majority of members in both the House and Senate personally oppose Common Core – making support for Common Core paper thin. It is still very significant that 30 members of our state legislature have been willing to publicly oppose Common Core this week.
Here is a link to the Senate bill 6030 page:
https://apps.leg.wa.gov/billinfo/summary.aspx?bill=6030&year=2015
Here is the text of the first part of the bill. The entire bill is
available at this link.
SENATE BILL 6030
State of Washington 64th Legislature 2015 Regular Session
By
Senators Chase, Roach, McCoy, Hasegawa, Miloscia, Padden, and Dansel
AN ACT Relating to assessments in public schools; amending RCW 28A.655.061, 28A.655.066, 28A.655.068, 28A.655.070, 28A.305.130, 28A.655.185, 28B.105.010, 28B.105.030, and 28B.105.060; amending 2013 2nd sp.s. c 22 s 1 (uncodified); adding a new section to chapter 28A.320 RCW; adding a new section to chapter 28A.655 RCW; adding new sections to chapter 28A.655 RCW; and declaring an emergency.
BE IT ENACTED BY THE LEGISLATURE OF THE STATE OF WASHINGTON:
Sec. 1.
2013 2nd sp.s. c 22 s 1 (uncodified) is amended to read as follows: (1) Common core state standards have serious drawbacks including:
(a) Being copyrighted by a private trade group and therefore not subject to change or improvement as needed by Washington state legislators, teachers, and parents in the best interest of students in our state;
(b) Being developmentally inappropriate for students in elementary school;
(c) Missing numerous essential academic skills that were present in the prior Washington state essential academic learning requirements; and
(d) Providing no evidence of actually preparing students to be either career or college ready.
(2) The legislature further finds that the prior Washington state essential academic learning requirements were carefully written with feedback from Washington state teachers, are not copyrighted by any organization, are age appropriate, and include all of the essential academic skills required for a student to assume his or her place as a citizen of Washington state. It is therefore in the best interests of the students of Washington state to withdraw from the common core standards and return to the prior Washington state essential academic learning requirements.
We would like to thank all of the legislators who have sponsored this bill. Our next step is to demand a hearing for this bill. There never was a real, open and honest discussion when Common Core was passed in Washington state a couple of years ago. It was certainly never announced that Common Core and Common Core tests would fail two thirds of our students. Parents and teachers deserve to have an opportunity to voice their concerns about Common Core and the Common Core SBAC test. We are certain that once more parents and teachers become aware of the drawbacks of Common Core, the movement to repeal Common Core will eventually prevail. But we also know that even the biggest bonfire begins with a single match. Today, that match was lite in Washington state. A glimmer of hope has emerges for our children that someday they may have a classrooms free of high stakes high pressure high failure rate tests. Let the discussion begin.
Sincerely,
David Spring M. Ed. And Elizabeth Hanson, M. Ed.
Coalition to Protect our Public Schools
This email address is being protected from spambots. You need JavaScript enabled to view it.